Killing Joke
Links, News & Resources
---

Official Killing Joke Website


---

A Splendid, Newly-found Blog-style KJ Source: Killing Joke Sidewinder




This is an Incredible 'Un'-Official Site: Honour The Fire




Click the image for some useful biographical info on The Jokers.




KILLER KJ Merch
Malicious Damage




Learn about this band's twisted art
Studio C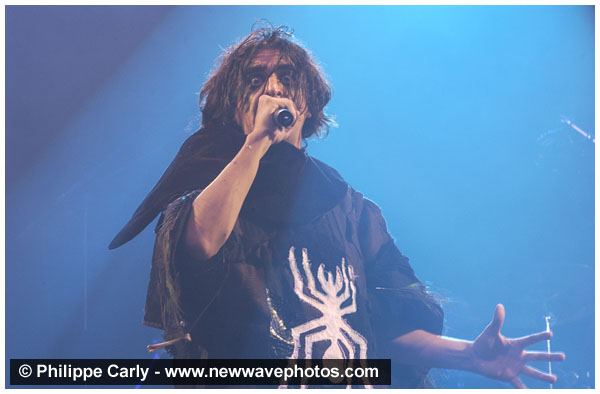 A 2003 Shot of Jaz
Taken August 8 at the Lokkerse, Belgium Feesten Festival
An awesome collection of KJ concert photos, Past and Present:





Interviews & Articles:
~~~~~~~

1. Jaz Coleman
- Excellent Interview at Skiddle

2. Geordie Walker
- at BBC Manchester (Need RealPlayer - worth the bullshit)

3. Jaz & Dave Grohl
- Video footage (in studio) and audio clips (new album)

4. Live Review
- The Underworld London Aug. 14th '03 ~From Live 4 Metal

5. A VINTAGE KJ INTERVIEW - from 1981

6.








Are you looking for RARE Killing Joke Items?
Find everything from out of print vinyl to CDs, Signed Photos, T-Shirts and much more:

Killing Joke at GEMM

Killing Joke at MusicStack

You will be amazed at what you will find, and a small percent of purchases
made from these links will help support the cause of Tangento.net



Additional Resources
~~~~~~~~~~~~~
Here, you can sign up for the
Killing Joke Mailing List and read a message board:



A nice little site with unusual images, viewpoints, etc.
Laugh At Your Peril




A superbly designed, informative (and now archived) KJ Site




Here is a wealth of rare KJ Vids and Sounds
(Now Achived & Barely Functioning)





In Memoriam:
An Abandoned, nevertheless still useful Killing Joke Site
(Archived)


A partner in sick nostalgia:


A Blast from the Past





Want to link here?


Please use this banner
-which links to the KJ Cover Page


For the Rest of Tangento's Pages:
(If not in frames)